Diagnostic imaging solutions to meet the challenges of today and tomorrow
Imago's flexible Visual Intelligence platform is capable and critical to setting new image testing standards for industrial food animals. Handheld ultrasound devices are exploding across the field of medicine, and this includes veterinary clinics and industrial breeding farms. Our software helps increase productivity and accuracy, enabling clinicians to deliver results in seconds and, ultimately, improving animal diagnostics to help producers run their businesses efficiently and profitably.
We collaborate with our customers to develop custom imaging solutions for real-world animal diagnostic applications, accelerating animal health monitoring and surveillance to help ensure the wellness of animal breeding farms.
Imago completed a one-year funded research project with the National Cancer Institute to clinically validate results of in vivo capabilities for detection, characterization and monitoring of cancer growth followed by regression in response to immunotherapy treatments. These studies included animals for treatment and diagnosis of breast cancer with X-ray images and brain cancer (Glioblastoma) with MRI images.
Tissue mapping into fractal patterns from original grayscale X-ray Fractals reveal chaoticmalignant patterns associated with high Hausdorff dimensions
Imago's animal studies with the National Cancer Institute provided insights and opportunity that caused Cobb-Vantress (Tyson Foods) to engage Imago. The challenge was to see if Imago's Visual Intelligence platform could identify genetic anomalies in ultrasound images for identification and quantification of Woody Breast Syndrome in chickens, as part of its breeding program. The research team at Imago validated all requirements for quantification of both the breast myopathy and calculation of breast white meat of each bird using images generated by ultrasound. Imago built a customized portal for Tyson Foods, hosted by Google Cloud for real-time processing and analysis under a five-year exclusive contract. Because timely diagnosis of just one sick animal can ensure the health of an entire herd.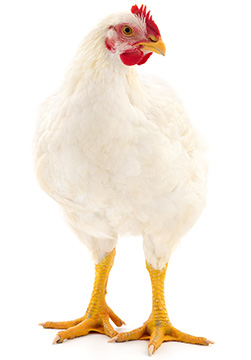 Genetic breeding diagnostics of breast myopathy and mathematical weight calculation.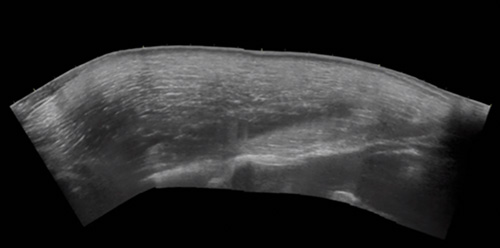 Imago/PetViewDX portal designed to analyze up to 4,000 Ultra-sound images per week from 7 global sites.